No, I'm not turning this into a food blog (though I've thought about it), however sometimes I'm so proud of something I've made that I just have to share it.
<don't do a long preamble don't do a long preamble don't do a long preamble>
My falafel background and more pictures can be found in this tweet - The recipe will be at the bottom of this post.  I promise:
A FALAFEL THREAD:

To be perfectly clear: I'm not trying to put a modern twist on it or making a gourmet or pumpkin-spiced falafel.

Falafel is something I've never made for myself before and I wanted to try to replicate the flavors that I grew up with from Jordan and Palestine. https://t.co/hd350gVXy3 pic.twitter.com/Dh6kgBwRME

— Roddie - راضي (@eiddor) April 25, 2021
<don't do a long preamble don't do a long preamble don't do a long preamble>
Like a lot of people, I've been cooking a lot more since COVID-19 changed the world.
I've always loved to cook and experiment with different recipes, but moving to a new role at work 8 years ago that involved traveling every 2-3 weeks kind of put a halt to that.  
It's not about not having the time to actually cook the food - it's about my process.  Even if I have the ingredients on-hand, I'm not the type to just grab a new recipe on a whim and make it that day. If there's something I'm really interested in, I'm actually kind of obsessive about it and very methodical.  I want the food to taste like I imagine, so I want to make sure I'm using the "right" recipe for a given dish.  Taste is, of course, pretty subjective but that's really the key.  The dish might sound amazing to me or remind me of something I've already had and enjoyed, but how do I know that this particular recipe will match it?
So, I go a little nuts.  
My first stop is usually Google where I'll search for the dish and look at pictures of it just to make sure it's what I really think it is.  Then I'll quickly scan a few of the top-rated recipes to see if there are any ingredients in the dish that I don't like, or that I don't like to cook with. During this phase I'll make a list in my head of the basic ingredients along with a rough list of the differences between the various recipes.
Next, I hit YouTube as a final gate in the process, as I like to watch people make food while they're talking about it.  Is there a technique in the recipe that I don't particularly enjoy doing?  Is there an appliance or tool that I don't have? Is this recipe much different than the ones I read during my quick Google search?
I'll usually watch 8 or 10 different videos for the same dish again to get a sense of the commonalities along with the differences.  
This is where I make the go/no-go decision (I hate that phrase so much).
I end up getting a little excited, sometimes even flexing about it on Twitter.
My next project will be a dessert: Harisa (or Namoura) [or Basbousa.] The Middle Eastern dessert with an identity crisis. pic.twitter.com/PrAXPOouLp

— Roddie - راضي (@eiddor) April 26, 2021
Then I watch even more videos, diving deeper and deeper into the depths of YouTube hell, even leaving "autoplay" on so that the algorithm can lead me.  Along the way I'll study the cooking techniques, not just for that particular dish, but to improve my technique in general.  I'll sometimes watch as many as 50 different YouTube videos of the same dish, averaging things out in my head and visualizing my own cooking process.   I'll even watch those travel videos that show the food being made in a restaurant or on the street.  More learning.
Is it a dish from another country or culture?  Even better!  More videos to watch! I'll even watch the videos that have no subtitles and then push Google Translate to its limits; even translating the video descriptions and some of the comments.
My new superpower is carefully copying and pasting the right combination of Chinese characters into Google and YouTube to try to find a certain recipe.

— Roddie - راضي (@eiddor) February 28, 2021
A boring thread about noodles with pictures of my cooking at the end.

The quest is over. What was the quest?

To replicate the noodles in this dish that I've only had at one place - A Chinese restaurant in London, Canada. pic.twitter.com/L0MLrY7pYr

— Roddie - راضي (@eiddor) March 1, 2021
I usually end up saving four or five of the ones that I consider the most helpful for later viewing.  Once I've exhausted YouTube, I'll go back and watch the videos that I've saved at least 3 or 4 times until I've memorized the entire process from each video.
By this time I'm fully immersed in the dish and thinking about it constantly. I even start dreaming about the dishes after a while.
My process with following complex recipes is thus:

- read blog post and recipe 14 times
- print recipe and add notes from rest of post
- visualize entire process repeatedly for 48-72 hours including during sleep
- stress for 4 hours before starting
- lose appetite in process

— Roddie - راضي (@eiddor) March 6, 2021
Now I'm fully committed, so I go back to Google and start reading print recipes again just to make sure I haven't missed an ingredient and that my measurements are sane.  I use Google Translate and read recipes that aren't in English.  I want this food to be perfect.
The only Fried kibbeh (كبة مقلية) thread!

- Fried kibbeh is my favorite Arabic food.

- Syrians make the best fried kibbeh. Don't @ me. I will die on this hill.

- This is my fried kibbeh - My recipe will be later in the thread. Be patient. It will have been worth it. pic.twitter.com/yLxNRssGmU

— Roddie - راضي (@eiddor) December 26, 2020
All of this is followed by 5-6 days of mental preparation, ingredient shopping, and gadget ordering before it's time to finally make the dish.
I think things are about to get ridiculous. pic.twitter.com/qY1INE6dUt

— Roddie - راضي (@eiddor) March 20, 2021
<I did a long preamble I did a long preamble I did a long preamble>
And here we are - You're here for the Falafel recipe, I know.
---
So, through the process outlined above and in the original tweet, I came up with four spice variations to try.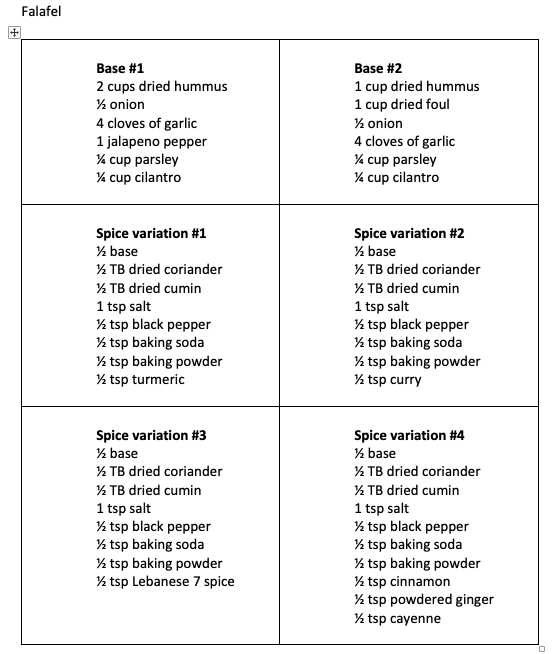 Because one can only eat so much falafel in a weekend (it's all gone), I was only able to try variations #1 and #4; freezing half of the base mixture for another attempt soon.
That said, I really think #1 is the perfect one for me - It's the taste and texture that I remember from my travels and from the better falafels that I've had at restaurants in the US.
So here it is - Try it and you won't be disappointed.  If it doesn't turn out the first time, try it again.  It's truly worth it.
My favorite Falafel recipe
Base Ingredients:
2 cups dried chick peas
½ large yellow onion, chopped into chunks
4 cloves of garlic, roughly chopped
1 jalapeño pepper, chopped into chunks
¼ cup parsley with stems removed
¼ cup cilantro (aka fresh coriander) with stems removed
Spices:
1 TB dried coriander
1 TB dried cumin
2 tsp salt
1 tsp black pepper
1 tsp turmeric
1 tsp baking powder
1 tsp baking soda (added just before frying)
Soak dried chick peas for 12-24 hours in a bowl with plenty of water.
NOTE: DO NOT USE CANNED CHICK PEAS FOR THIS RECIPE
Rinse and drain soaked chick peas.
Add base ingredients (chick peas, onion, garlic, jalapeño pepper, parsley, cilantro) to a food processor and pulse until a coarse mix is formed. Do not over mix or turn it into a paste.
You can also get the perfect texture using a meat grinder by running the base ingredients through the medium blade, mixing, and then running everything through the fine blade.
At this point you can freeze any amount of the mixture for up to six months. The spice amounts above are for the entire base mixture, so be sure to adjust if you decide to freeze some of it. Freezing after adding the spices will work, but will also mute the flavors a little.
Add the spices (minus the baking soda) to the mixture and mix it in by hand, using your fingers in a rotating motion; scraping down the sides while rotating.
Mixing this way will improve the texture of the dough, similar to how you would mix Chinese dumpling or wonton fillings.
Chill the mixture for at least 30 minutes to allow the chick peas to absorb the spices and make it easier to work with.
Mix in the baking soda about ten minutes before frying using the same method above, making sure the baking soda is evenly distributed.
Form falafel into patties using a falafel scoop – I use the medium-size version of this scoop: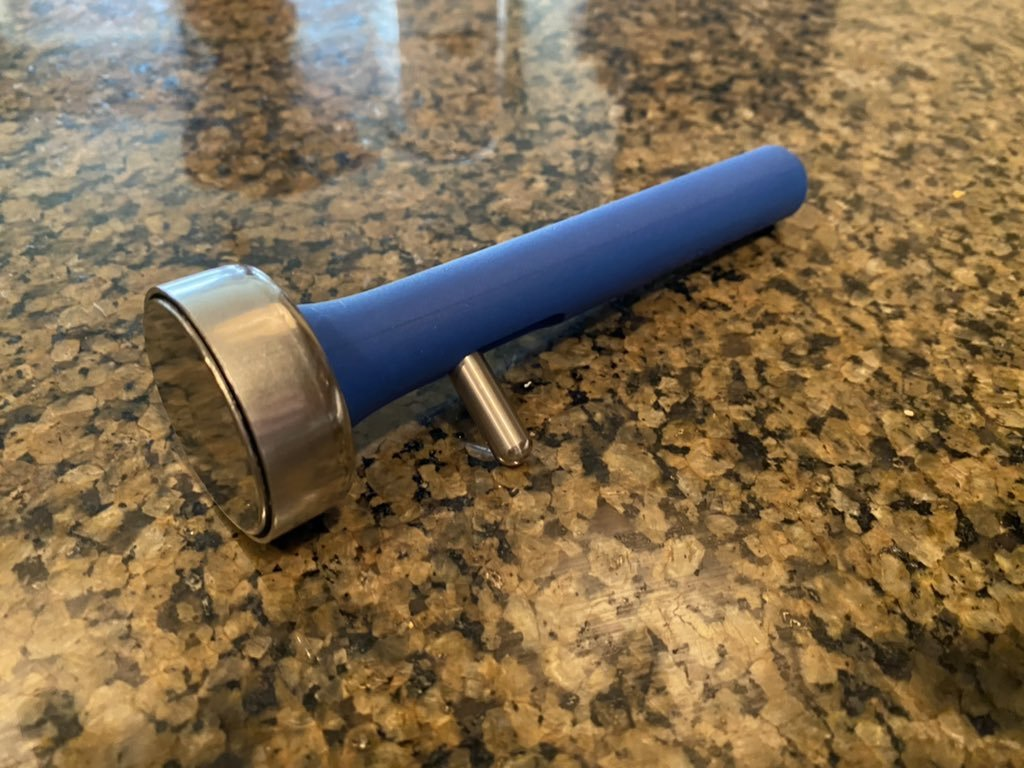 When forming using a scoop, DO NOT pack the mixture into the scoop. Instead, scrape and smooth down the sides while rotating the scoop and allow it to fill the scoop lightly. Packing the mixture will result in too dense of a falafel.
If you don't have a scoop, you can also use two spoons, a melon baller, a smaller ice cream scoop, or even your hands. Just be careful not to pack the patties too tightly.
Carefully drop the formed falafel into 360-370 degree oil (use neutral oil like vegetable or corn oil) flipping occasionally for 3-5 minutes or until golden brown.
If you added extra fresh parsley or coriander to the mixture to make it more green, the falafel will turn out darker because the herbs will burn quickly.
Important: If the oil temperature drops below 350 degrees, the falafel will absorb it resulting in very oily falafel that won't taste great.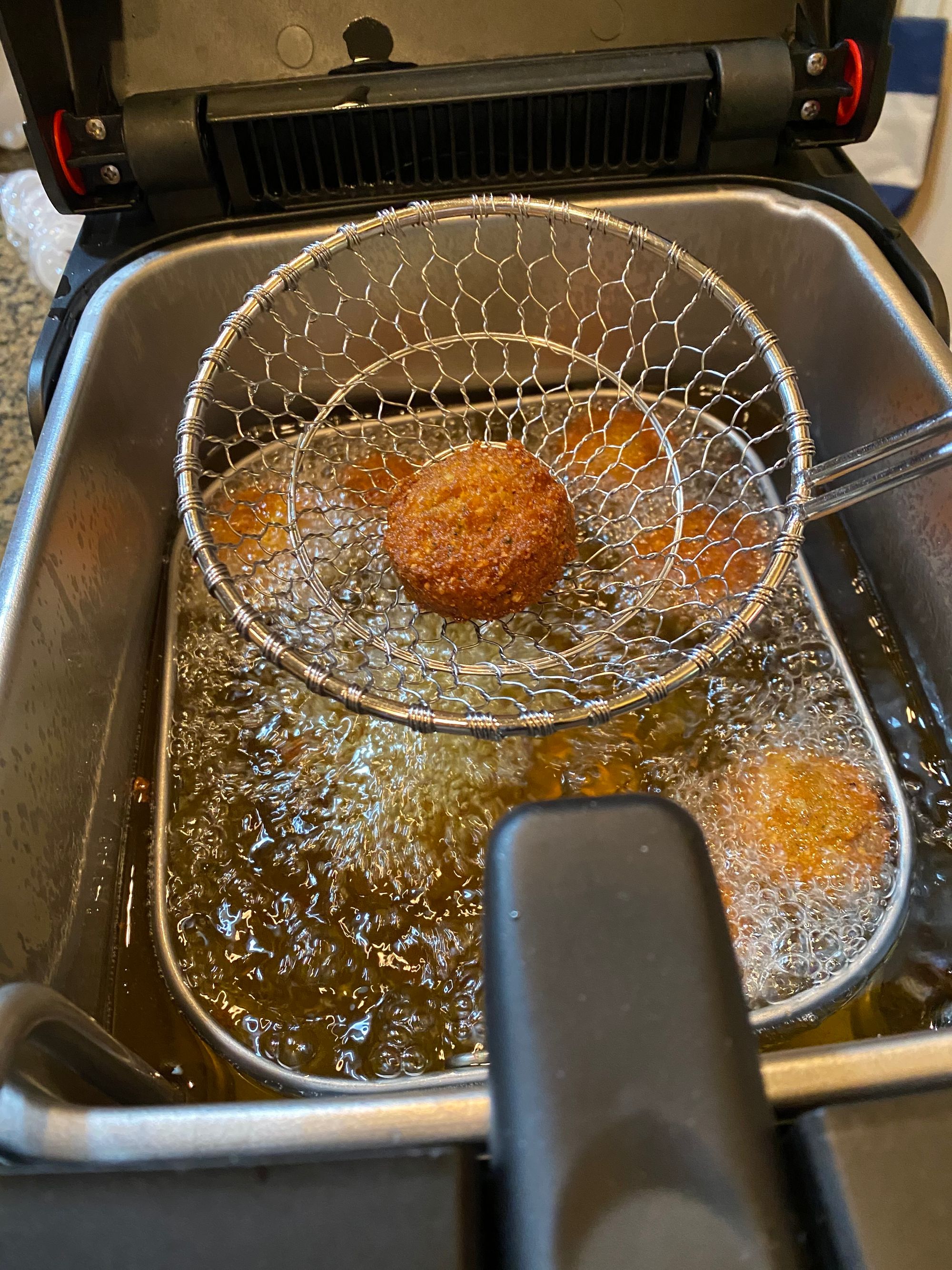 Enjoy the falafel dipped in tahini sauce, hummus, or in a sandwich with fillings!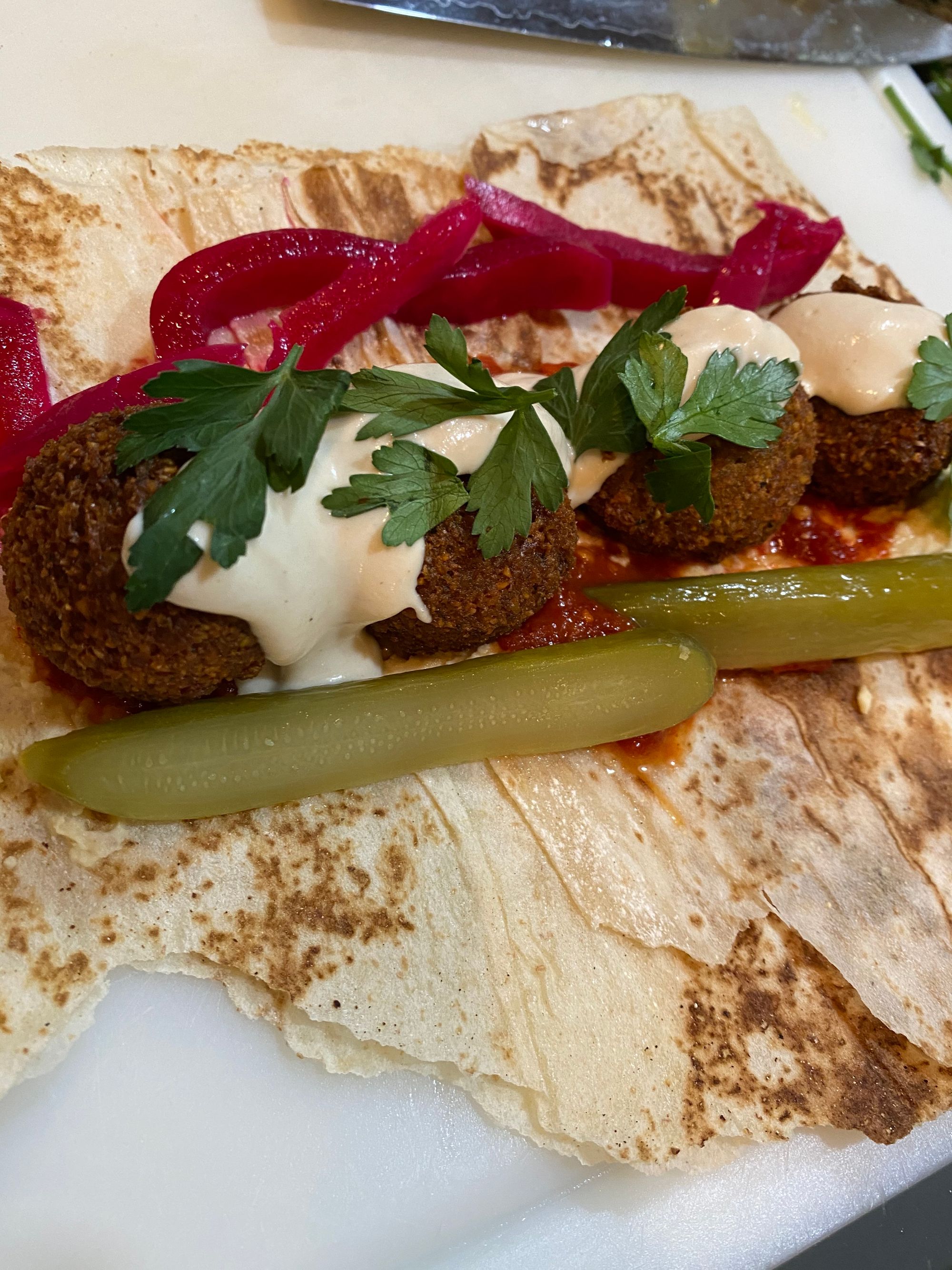 If you have any questions about the recipe or technique, please feel free to let me know in the comments below or Tweet me @eiddor.